Latest News
Fringe Celebrates its 10th Anniversary
September 9, 2018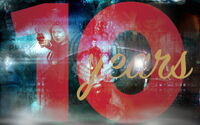 Fringe premiered on the Fox network ten years ago today, on September 9, 2008, and concluded on January 18, 2013, after five seasons and 100 episodes. The series follows Olivia Dunham (Anna Torv), Peter Bishop (Joshua Jackson), and Walter Bishop (John Noble), all members of the fictional Fringe Division of the Federal Bureau of Investigation, based in Boston, Massachusetts, under the supervision of Homeland Security. The team uses fringe science and FBI investigative techniques to investigate a series of unexplained, often ghastly occurrences, which are related to mysteries surrounding a parallel universe.
---
Fringe Star Meghan Markle Marries Prince Harry
May 19, 2018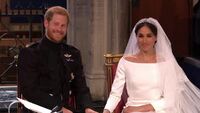 Meghan Markle has walked down the aisle, tying the knot in Windsor Castle's St George's Chapel to marry Prince Harry in the biggest wedding of the year.

Ms Markle has married Prince Harry to become the Duchess of Sussex in a star-studded royal wedding. Meghan appeared in two Fringe episodes, A New Day In The Old Town, and Night Of Desirable Objects.
---
Joshua Jackson Fronts Campaign To Save Oceans
June 10, 2017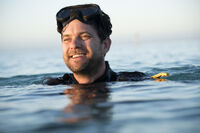 Joshua Jackson has jumped on board a campaign to save the oceans of the world.

Speaking in the video campaign, he said: "The health of the oceans affects all of us. It's amazing how interconnected we all are. When fish populations decline, it really impacts people and marine animals everywhere. Orcas in the Pacific Northwest rely on salmon for food. Fishers around the world feed their families with what they catch or sell. Restoring our oceans helps feed hungry people while supporting vibrant ecosystems. I am excited to work with Oceana so we can save the oceans and help feed the world." Watch video
---
Anna Torv wins Most Outstanding Actress Award
April 23, 2017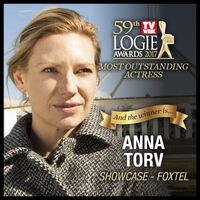 Anna Torv took home the award for Most Outstanding Actress this week at the 59th annual TV WEEK Logie Awards in Australia for her role as political correspondent, Harriet Dunkley in the Foxtel Showcase series Secret City. While Torv did not attend the awards ceremony, she did record an acceptance speech.

"Of course I grew up watching the Logies so this is really special and I feel incredibly honored. Thank you so much. There's so many people I want to thank- Chris Uhlmann and Steve Lewis who wrote the book that Secret City was based on. Thank you for your generosity and also for allowing Harry to become Harriet so that I could play her. Foxtel, Brian Walsh and Penny Win, thank you. Matchbox Pictures, Joanna Werner and Penny Chapman thank you so much. And I want to thank Emma Freeman who really did steer this great big ship. That collective and our incredible writers, our outstanding cast and amazing crew came together to create a show that I am so proud of and I'm thrilled to accept this award as a direct result of everyone who worked on the production of Secret City. Thank you." [1] Watch video
---
Anna Torv cast for David Fincher's new Netflix Drama "Mindhunter"
March 08 2016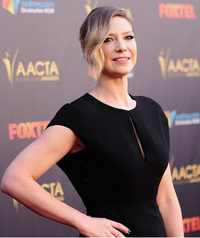 Anna Torv will portray FBI psychologist Wendy in the new Netflix series, set to debut in 2017. The project is based on the 1996 book Mind Hunter: Inside the FBI's Elite Serial Crime Unit by John Douglas and Mark Olshanker. Taking place in 1979, it revolves around two FBI agents who interview serial killers in an effort to help them solve current murders. Torv will also be working with Fight Club alum Holt McCallany (who played the Mechanic).

With Torv familiar with playing an FBI agent and McCallany familiar with Fincher's work, these two together will definitely make Mindhunter a hit. Jonathan Groff, who was recently in HBO's Looking series, was also cast in an unknown role.[2] about the storyline and Torv's return to US television. Read More
---
The end of Fringe is an end of an era
January 18, 2013
Many people may not realize it, but without Fringe there will be no true science fiction left on on U.S. network television for the forseeable future. Freelance writer Graeme McMillan ruminates in Wired about the impact of the show and how it will be missed. Read More
---
Fringe Series Finale Airs Friday at 8:00!
January 13, 2013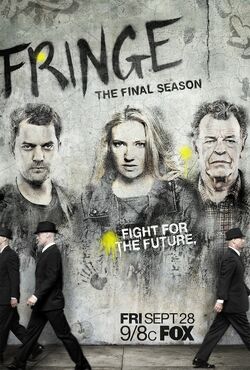 Fringe fans, the day is finally here. A series finale event five seasons in the making airs this Friday, January 18, at 8/7 central. It's a two hour block, so make sure you don't miss the first hour and only tune into the 9:00 episode as is usually scheduled. In the first hour of the two-part series finale, the Fringe team engages a desperate plan as Olivia embarks on a dangerous and otherworldly journey into the unknown. Then, the acclaimed series that has explored the human condition through the prism of parallel universes, unexplainable phenomena and unimaginable threats, reaches a milestone 100th episode and comes to an epic and climatic conclusion. Peter, Olivia, Walter, Astrid and Broyles face off against the Observers in one final and extraordinary battle for the fate of mankind. The five-season saga comes to an epic and emotional end. Make sure you're there at 8:00 or set your DVR. You won't want to miss it. Also, if you haven't already, check out the promo. Be aware that it shows scenes from the finale and could be considered a spoiler. As per Wiki policy, no information from the promo should be posted on this site until after the finale airs. Enjoy the remaining moments of Fringe and thank you for contributing to this Wiki and turning it into what it is! We hope to see your continued involvement long after the finale airs. Watch the Promo
---
Fringe Production Near End!
December 2, 2012 Fringe production will wrap on December 12. The final episode was celebrated at an 100th Episode/Series Wrap party. Producer J.H. Wyman has revealed that the title of the 100th Episode/Series Finale is "An Enemy of Fate." Now the countdown is on. Only 47 more days until Fringe is over for good. Don't miss a moment of it. The farewell season continues this Friday on Fox at 9 pm with "The Human Kind." There are only 6 episodes left. Stay up to date with the show and wiki to ensure you don't miss a second.
---
Fringe Begins All Over Again in Syndication!
November 12, 2012 Now is the perfect time to begin watching Fringe for the first time or start your rewatch as the series winds to a close. The Science Channel, which gained syndication rights to Fringe in May, will begin airing reruns of Fringe starting November 20, 2012 at 8:00 PM with the Pilot! In addition, the Science Channel will air every season one episode on Friday and Saturday! Now's the perfect time to get caught up or simply catch what you missed. Check your local listings. Read More
---
Check out this Season Five Promo!
August 29, 2012
Help Fringe Wiki Get Prepared for Season Five!
August 29, 2012

Are you a new or returning member to the Fringe Wiki community? Do you want to help the Fringe Wiki get ready for Season 5? If so, check out the To Do List and get the Wiki updated just in time for the season premiere. Feel free to add your own "To-Dos" to the list as well and erased points once they're completed! If you want to contribute to the site but don't know where to start, the To Do List is your place to go!
---
FRINGE Wins Big at Saturn Awards
July 29, 2012
FRINGE received several nominations and wins at the 2012 Saturn Awards. Accolades included winning Best Network Television Series. Anna Torv (Olivia) won Best Actress on Television. John Noble (Walter) was nominated for Best Supporting Actor on Television and Orla Brady (Elizabeth Bishop) was nominated for Best Guest Star on Television. Congratulations to Fringe!
---
FRINGE Renewed for Final Season
April 26, 2012
Fringe fans everywhere rejoice! Fringe has been renewed for a final season to consist of 13 episodes. Don't miss the epic conclusion, beginning this fall! Watch Trailer
---

Season 5 Decision Expected This Week
April 10, 2012
As per a tweet by show executive producer Joel Wyman, a decision regarding the fate of Fringe for a season 5 is expected to come this week. If renewed, it would be a 13 episode (and presumably final) season.
---
Rest of Season 4 Schedule Revealed
February 13, 2012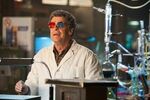 The rest of the schedule for this season of Fringe has been released. The show will air new episodes each week in February, while going on hiatus until March 23, where it will air the remaining eight episodes without any breaks or repeats. This puts the season finale at May 11, 2012. Set the date!
---
Baseball Happened
October 27, 2011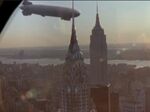 The fifth episode of season four of FRINGE, "Novation" has been postponed until November 4, 2011. Initially scheduled to air on Friday, October 28, the World Series went to Game 7 when the Cardinals tied up the Series 3-3 against the Rangers. Perhaps the other universe saw the episode at its regularly scheduled time.
---
FRINGE is on Tonight!
September 30, 2011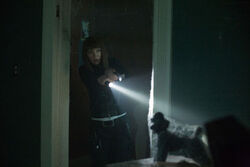 The second episode of the fourth season of FRINGE, "One Night in October" airs tonight on Fox at 9/8c! As the victims of a highly intelligent serial killer "Over There" stack up, the Fringe Division "Over Here" is asked to assist. As the two sides tangle and innocent people remain at risk, the suspect's doppelganger "Over Here," a professor who teaches Forensic Psychology, is brought into the fold and forces the team to consider the notion of sending civilians to the other sideOld fans and new fans alike should not miss it! It's not too late to get into FRINGE!



---
FRINGE Rises in the Ratings!
September 24, 2011
The season premiere of Fringe garnered 1.5 million viewers in the key 18-49 demographic, with 3.53 million viewers in total! This is an increase from the season finale last year, which had a 1.3 and 3.29 million total viewers. Although this is down 21% from the very first Friday outing last season, it's 25% improvement from the season finale is very interesting! This is great news for all Fringe fans. Keep tuning in each week to ensure that the ratings stay consistent! Read More
---
FRINGE Returns TONIGHT!
September 23, 2011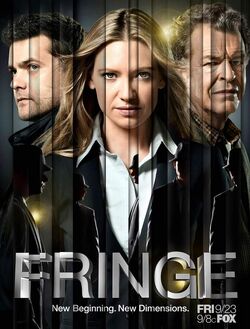 The day you all have been waiting for has arrived. It was a long and drawn out Summer for Fringe fans- all of which were waiting anxiously for the season four premiere. They were all asking the same question too: Where is Peter Bishop? But the wait is over because FRINGE is back! Starting tonight at 9/8c, season four will begin and fans all over the world will be entranced in one of the most satisfying sci-fi dramas on television. It's also the perfect time to jump on board, as the climactic events of last season created a reset, making it easily accessible to newcomers. Whether you are a newcomer of a long-time fan, you won't want to miss a minute of it. Be sure to tune in to "Neither Here Nor There" at 9/8c on Fox! Watch the Trailer!
---
First Full-Length Season 4 Promo Released!
September 16, 2011
Today, the first promotional trailer composed of entirely new footage for the fourth season of Fringe was released. Interestingly, the end of the trailer announces the "SERIES" premiere to be on September 23rd, while flickering in and out between "SEASON." What could this mean? There's only one way to find out: Do not miss it! The Fringe Season/Series Premiere airs Friday, September 23, at 9/8c on Fox! Watch Now!

In related news, the twelve part "Fringe: Past + Present + Future" web series concluded today, with the release of Parts 11 and 12. Throughout the twelve parts, the series recapped everything you need to know about Fringe to get ready for the new season!


Season Three DVD Released!
September 6, 2011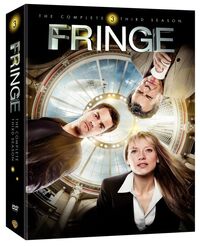 The Complete Third Season of Fringe has been released on DVD! Buy it today and get ready for the Season Four premiere, which airs on September 23, 2011 on FOX!

Immersive. Compelling. Hypnotic. Brilliantly imaginative. Endlessly thrilling. Pick your term. The mystery of the universes deepens in the critically acclaimed 22-episode third season of television's most exciting sci-fi. The Fringe team escapes from the parallel universe – except for Olivia, trapped in the other world and replaced in ours by her double, who turns Peter and Olivia's tentative relationship into a love affair. Then Olivia returns, bonds of trust fray, ever more bizarre and terrifying phenomena occur and secrets that stretch back to 1985 threaten to destroy our universe. Or theirs.

Loaded with special features, the season three boxed set contains all twenty-two season three episodes. Special features explore the Duality of Worlds: Four featurettes exploring The Other You, Visualizing an Alternate World, A Machine of Destiny and The Psychology of Duality, a look into the animation of the "Lysergic Acid Diethylamide" episode, "Constructing an Extrasensory Soundscape", Pop-Up Commentaries, Audio Commentaries, a Gag Reel, and trailers! Read More
---
First Look at Season Four!
September 4, 2011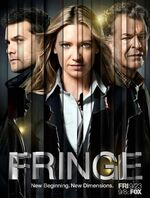 FOX has released photos of the cast for season four, as well as posters teasing the upcoming season.

Season Four begins with "Neither Here Nor There" on September 23, 2011 at 9/8c on FOX. Read More

Also, check out the first promo for season four with new footage! Read More

Check out the first promotional stills of the season four premiere! Read More

Fringe Season 3 Photos Feature Alt-Olivia!
Aug 30, 2010 - By Krystal Clark at ScreenCrave.com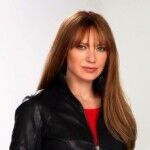 The new fall TV season is almost here, and the first official photos from season 3 of "Fringe" have been released! The show left viewers on the edge of their seat when it went on hiatus last spring thanks to alternate universes and an old school switcheroo. The new photos from this season highlight a couple of unwanted additions — Olivialternate and Walternate. Read More
---
Wire-Tapping with Fringe's Lance Reddick
by Stefanie Lee, TV.com Staff Writer 02/23/10 02:30 PM
Lance Reddick has played Matthew Abaddon, the mysterious and malevolent Lost orderly, and Philip Broyles, the mysterious and benevolent (we think?) Fringe FBI boss. But he's most known for Cedric Daniels, The Wire's Machiavellian police captain who knew how to work the system to get things done—and we mean Machiavellian in the best possible way. Read More
---
'Fringe': Winter finale
LA Times, Show Tracker blog February 4, 2010 | 11:45 pm
I want to applaud Fox for running with the concept of winter finales. Considering most shows are going on hiatus while the Olympics, "American Idol," and "Lost" battle it out (my eyes will be on the one with parallel timelines), why not tie up some loose ends and give the audience a cliffhanger to hold them over until spring? "Glee" did a marvelous job of closing out its first chapter, and "Fringe" gave us some juicy bits to chew on while we eagerly await April.
Over the last two weeks, "Fringe" has shown us how good they have gotten with stand-alone episodes. Thursday night, "Fringe" dives straight into a mythology-heaving hour. Read More
---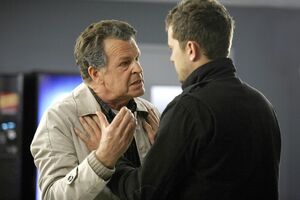 'Fringe': The complete and definitive chat with John Noble
By Los Angeles Times September 17, 2009 | 11:21 am
Science fiction has produced some of the most memorable characters in television history. There's Spock, Dr. Who, Bender B. Rodriguez, Adm. William Adama, Sam Becket, Optimus Prime. The list could go on forever, but a new name has made a permanent place for itself in the group: Dr. Walter Bishop. The combination of mad scientist, delighted child and psychotropic drug enthusiast, Walter is a core component of "Fringe," and in a single season he's become one of the most interesting individuals on the small screen. Read More
---
Today's TV Addict Top 5: Reasons We're Excited For FRINGE's Second Season Premiere (and why you should be too!)
By TV Addict September 10th, 2009
1 Love is in the air After a long day of saving the world from paranormal phenomena and mutated serial killers that may-or-may-not-be from 'the other side (dimension?),' it should probably come as no surprise that two of your favorite series regulars succumb to temptation on Thursday's second season premiere. But what might come as a surprise is which member (or members) of Fringe division lock lips! Needless to say, like most everything on the series, we guarantee you will not see it coming. Read More
Community content is available under
CC-BY-SA
unless otherwise noted.