September's Notebook is a companion book to the television series of Fringe. It is told completely from the perspective of September and includes FBI reports, journal entries, photographs, and much more.
Delve into television's most otherworldly phenomenon! Fringe: September's Notebook is a uniquely in-world collection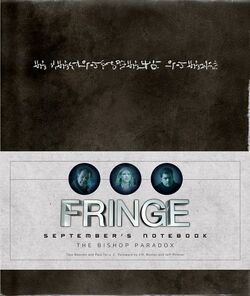 that explores the intricate destinies of Walter Bishop, Peter Bishop, and Olivia Dunham. Gathered by the Observer known only as "September," these pages reveal new truths about the Fringe Division and Massive Dynamic. The book also closely examines the Amber timeline and the alternate universe "Over There."
Packed with concept art, exclusive photos, and intriguing ephemera, September's Notebook will satisfy every serious fan's hunger for details about the Observers, quirks and little-known facts about each character, insight into Fringe Science, and much more. "Easter eggs" throughout build on the many symbols and codes woven into the show's fabric, uncovering truths never before revealed.
With its layered storytelling, well-rendered characters, and complex overarching narrative, Fringe is the ideal show around which to publish, and Fringe: September's Notebook provides a totally immersive reading experience.
The actual notebook was featured during the episode "The Boy Must Live."
The title of the book, written on the cover in the Observers' writing says: "a cautionary tale".
Community content is available under
CC-BY-SA
unless otherwise noted.