Jurassic World: Dominion Dominates Fandom Wikis - The Loop
Play Sound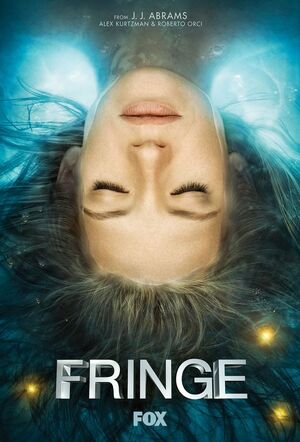 Fringe is a television series developed by J.J. Abrams for FOX. It is the fourth series co-created by Abrams (Felicity, Alias, Lost) in collaboration with co-creators Roberto Orci and Alex Kurtzman. It is produced by Bad Robot in association with Warner Bros. Television. The plot deals with a research scientist named Walter Bishop (who Orci describes as "Frankenstein mixed with Albert Einstein"), his son, and a female FBI agent who brings them back together.
The show is described as a cross between The X-Files, Altered States, and The Twilight Zone. The series premiered on September 9, 2008, at 8:00 p.m. ET on FOX. A pre-air version of the pilot was screened in its entirety for fans at Comic-Con 2008. The television show has spawned a series of comic books and novels that expand on the mythology of the series.
Cast
[
]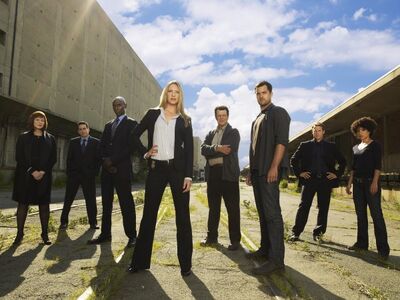 On January 17, 2008, it was revealed that Kirk Acevedo, Tomas Arana and Mark Valley would be playing main characters in the pilot episode. Acevedo and Valley will play FBI agents. Arana did not end up in the pilot or any other episode of the show.
On January 24, 2008, it was announced that John Noble and Lance Reddick would be playing main characters in the series. Noble will play one of the three lead characters: Dr Walter Bishop. Reddick will play Phillip Broyles, a special agent for Homeland Security who heads the special Fringe division, which is established to investigate a series of terrorist/paranormal events.
On January 31, 2008, Anna Torv, Blair Brown and Jasika Nicole had joined the cast. Torv will play one of the three lead characters: Olivia Dunham, a young, tough FBI agent who is forced to confront the spread of unexplained phenomena and work with Dr Walter Bishop. Brown will play the brilliant Nina Sharp, a 16-year veteran at Massive Dynamic, a cutting-edge research facility whose leader worked with Dr Walter Bishop before Bishop was assigned to a mental asylum. Nicole will play the recurring role of Astrid Farnsworth, a federal assistant.
On February 8, 2008, they announced that Joshua Jackson had joined the cast. He will play Peter Bishop, a smart high-school drop-out with gambling debts, who is one of the lead characters in the show.
Television Seasons
[
]
Expanded Canon
[
]
Crew
[
]
On April 8, 2008, it was announced that Jeff Pinkner will be the head showrunner. J.J. Abrams said he trusts Pinkner after working with him in Alias and Lost.
See also
[
]
External links
[
]
Official site